Mulching, also known as root-care cultivation, is a modern agricultural technology in which a layer of film is laid on the ground to promote crop growth, which can play a comprehensive role in heat preservation, moisture conservation, prevention of soil consolidation and fertilizer loss, weed control and insect control, thus improving and regulating the soil environment for core crop survival, which can lead to early maturity, good quality and increased yield and income. Agricultural land film is a thin agricultural film that is directly covered in cultivation beds or near the ground. Since different colors of agricultural films have different absorption and reflection patterns of the spectrum, they have different effects on crop growth and weeds, pests and ground temperature. Therefore, different colors of agricultural films should be selected for different crop characteristics and planting seasons in use.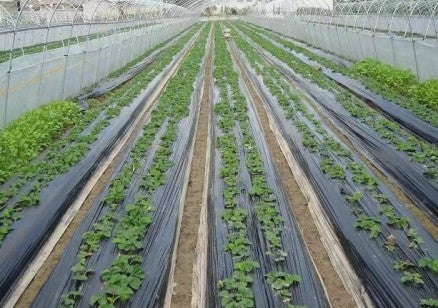 Application of various color films

Colorless Transparent Mulch Film

Usually also called common ground film, with thickness of 0.015 mm and width ranging from 80 to 300 cm, its light transmittance and thermal radiation rate reaches more than 90%, and also has certain reflective effect.

It is widely used to increase temperature and store water and moisture in spring. In addition, it can also improve soil microbial activity and has a certain effect on improving soil and raising soil organic matter content.
Red Mulch

Red mulch stimulates crop growth more than black mulch, and the plants use more energy for photosynthesis in the above ground. Red mulch transmits red light while blocking the transmission of other unfavorable color light, thus allowing crops to grow vigorously.

It has been proven that red mulch can meet the needs of rice, corn and sugar beets for red light, resulting in vigorous growth of rice seedlings, increased sugar content of sugar beets, larger carrots, wider leaves and thicker leeks, and earlier harvest periods.
Oct 12, 2022

Category:

News
Comment: 1
{"one"=>"{{ count }} comment", "other"=>"{{ count }} comments"}